SEE THE ACTUAL FRONT PAGE BY CLICKING HERE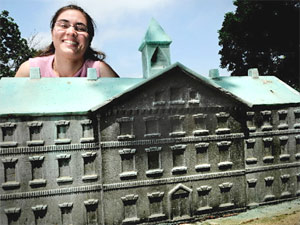 200 years later, college arsonist found?
Student makes case against dissident Methodist minister
By Timothy B. Wheeler
Baltimore Sun reporter
June 3, 2009
As cold cases go, this one's a doozy. The world's first Methodist college, one of Maryland's earliest institutions of higher education, burned in 1795. Newspapers at the time said it was arson. The governor offered a $1,000 reward - a lot of money then - to catch the perpetrator.
But no one was ever charged.
Enter Bonnie McCubbin, an anthropology and history major at St. Mary's College of Maryland, who graduated in May. More than two centuries after the mysterious fire, the 22-year-old from Bel Air tracked down artifacts excavated decades ago at the site in Harford County where Cokesbury College once stood. She pored over historical documents, journals and letters of people involved with the school, looking for clues.
On Sunday, McCubbin plans to present the findings of her senior-year research project at Cokesbury Memorial United Methodist Church in Abingdon, which stands next to the site of the short-lived college.
Her conclusion: The eight-year-old college was burned by a dissident Methodist minister who had been feuding with his denomination's leaders and had publicly questioned the church's involvement in running a school.
"I won't say I'm 100 percent positive that James O'Kelly is the arsonist," McCubbin said of her prime suspect.
The case against him is circumstantial. Indeed, the trail is so cold now that it's virtually impossible to prove by modern evidentiary standards that the fire was intentional. Authorities never said at the time why they believed it was arson, and the bits of melted glass and charred wood recovered in a 1968 archaeological dig were inconclusive.
"If you're trying to go back in time, it's a little hard to put the pieces back together," McCubbin said.
Not that she didn't try. McCubbin looked into the circumstances of the college's demise with a doggedness that would make any gumshoe proud, according to Julie King, her project adviser and an associate professor of anthropology.
"The only line of investigation she left unturned was the Ouija board," said King, a good history detective herself. Last year she was part of a team that found Charles County's long-lost original courthouse.
St. Mary's students are encouraged to undertake independent projects in their senior year, King said, but McCubbin tackled her investigation with an enthusiasm that was infectious.
"Bonnie has a way of making things sound very interesting, and this was," King said. "She drew me in...she's pretty convinced who did it."
For McCubbin, the case opened a window on the turbulent early history of Methodism, a reform-minded offshoot of the Church of England that took root in 18th-century Maryland and New York and spread across the English colonies via preachers traveling on horseback. American Methodists formed their own church after the Revolutionary War, but the establishment of a religious hierarchy sparked a bitter leadership dispute.
John Wesley, one of Methodism's founders, tapped Francis Asbury as a leader of the new American church. But some of the itinerant preachers in Virginia and North Carolina challenged the authority of bishops like Asbury, McCubbin said, believing that preachers like themselves should have greater power to baptize, give communion and ordain ministers.
Among the more vocal critics was O'Kelly, a dissident Southern preacher, who openly disputed Asbury's authority. McCubbin found documents in which O'Kelly questioned the church's move to build Cokesbury College in 1787, arguing that Methodist preachers should stick to saving souls.
McCubbin said O'Kelly's objections might have been rooted in part in money, because the college was deeply in debt by the time it burned. In any case, the rift grew, and O'Kelly and others ultimately broke away to form their own "Republican Methodist" church.
O'Kelly had motive, McCubbin contends, and also had opportunity. Though his whereabouts at the time of the fire in December 1795 are unknown, she said, O'Kelly had been to the college for church meetings.
"He had been there. He rode horseback all the time," she said. "He was a traveling preacher."
The history detective found her "smoking gun" in a letter that Asbury wrote to an associate two years after the fire. In it, the bishop does not directly accuse his nemesis of arson - indeed, O'Kelly is not clearly named. But McCubbin said the bishop couched his suspicions in a riddle of sorts to mask them.
The letter refers to "the temple of war on James" and later refers to those responsible for the burning of the college as "chaff," the husks of grain that are discarded as useless. Asbury concludes by saying that he has "written circumstantially" and is "weak."
McCubbin says O'Kelly seemed to celebrate the college's destruction in his own writing.
"Whether those losses are occasioned by the malice of the enemy, or directed by Divine Providence, I dare not say," the preacher wrote.
The St. Mary's graduate concludes that the "preponderance of evidence" points to O'Kelly as the arsonist. But she acknowledges that there are unanswered questions about the fate of the college.
"I don't consider it a closed book by any means," she said. Though she'd love to search for more leads, her summer will be spent working at a youth camp. She's bound for Wesleyan [sic] Theological Seminary in Washington in the fall, where she hopes to train to become a Methodist minister.
Ultimately, she'd like to turn her 118-page research paper into a publishable manuscript. Then, perhaps with a book under her belt, she said she might go to the current governor and claim that reward.